Products
Contact us
Sales Manager: Carrie Wu
Tel: +86-579-87187877
Fax: +86-579-87189877
Mobile: +86-13575697575
Wechat: bosengarden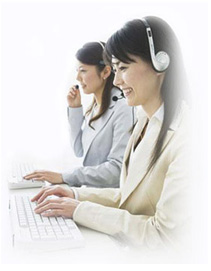 Support
How to Select Lawn Mower
We have multi-model of lawn mowers with different cutting width, and here we have exactly the machine to meet your
requirements.
If you think it is fun to collect the grass clippings and compost them, you need a machine with grass catcher.
You also can choose a machine with side discharging function in case you often work in long and tough grass.
Maybe you want the multifunction mower, which a 4 in 1 mower will meet your requirement.
Determine the type of mower that suits your yard the best.
The following mower diagram is a reference to help you understand the various parts of a typical lawn mower.

Safety Operation of Lawn Mower
• Tragic accidents can occur if the operator is not alert to the presence of children. Children are often attracted to the unit and
the mowing activity. Never assume that children will remain where you last saw them.

• Keep children out of the mowing area and under the watchful care of another responsible adult. Before and while walking
backwards, look behind and down for small children. Never allow children to operate the machine.

• Before using the machine, inspect the machine by visual to determine whether the cutting, fastening bolts and the entire
mower deck worn or damaged. To avoid an imbalance may be, replace worn out or damaged cutting attachment bolts sets.

• Before operating the mower, make sure that all protective screens, the grass catcher and other protective devices are
properly installed. Never operate the lawnmower with defective guards, or without safety devices.

• Mowing should only be done during daylight or under good artificial lighting. Do not operate the machine while under the
influence of alcohol or drugs.

• On riding mowers, never carry children, even with the blade(s) off. They may fall off and be seriously injured or interfere with
safe unit operation. Children who have been given rides in the past may suddenly appear in the mowing area for another ride
and be run over or backed over by the machine.

• Do the walk through. Check your yard for kids, toys (or the pets), branches and debris and clear it all out of the way before
you starting.

• Wear shoes that will actually protect your feet - no, sandals won¡¯t do. Nor will sneakers. Wear something sturdy with non-
slip soles.

• Start your mower outdoors, not in the garage or garden shed. Remember: carbon monoxide is a byproduct of burning
gasoline? Only operate your mower where there¡¯s plenty of fresh air.

• Add fuel outdoors, with mower engine turned off. Use gasoline with at least an 87 minimum octane.

• Prime the engine (look for the primer bulb to see if yours has one) like it says in your manual. Then set the choke and pull
the starter cord.

• Mow when the lawn is dry and you have plenty of daylight to see what you are doing. Do not mow on wet grass. Reduced
footing could cause slipping. Keep a firm hold on the handle and walk; never run.
• Use extra care when approaching blind corners, shrubs, trees, or other objects that may obscure vision.

• Cut only one-third the length of the grass each time you mow. That means if your grass is three inches tall, one inch is all
you want to cut off. This keeps your lawn healthy. You adjust the cut by adjusting your mower deck (with the engine turned
off).
Troubleshooting of Lawn Mower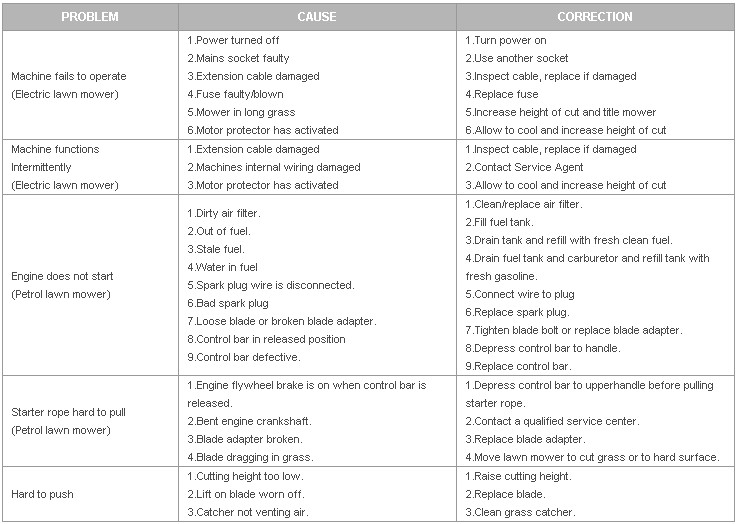 Maintain of Lawn Mower